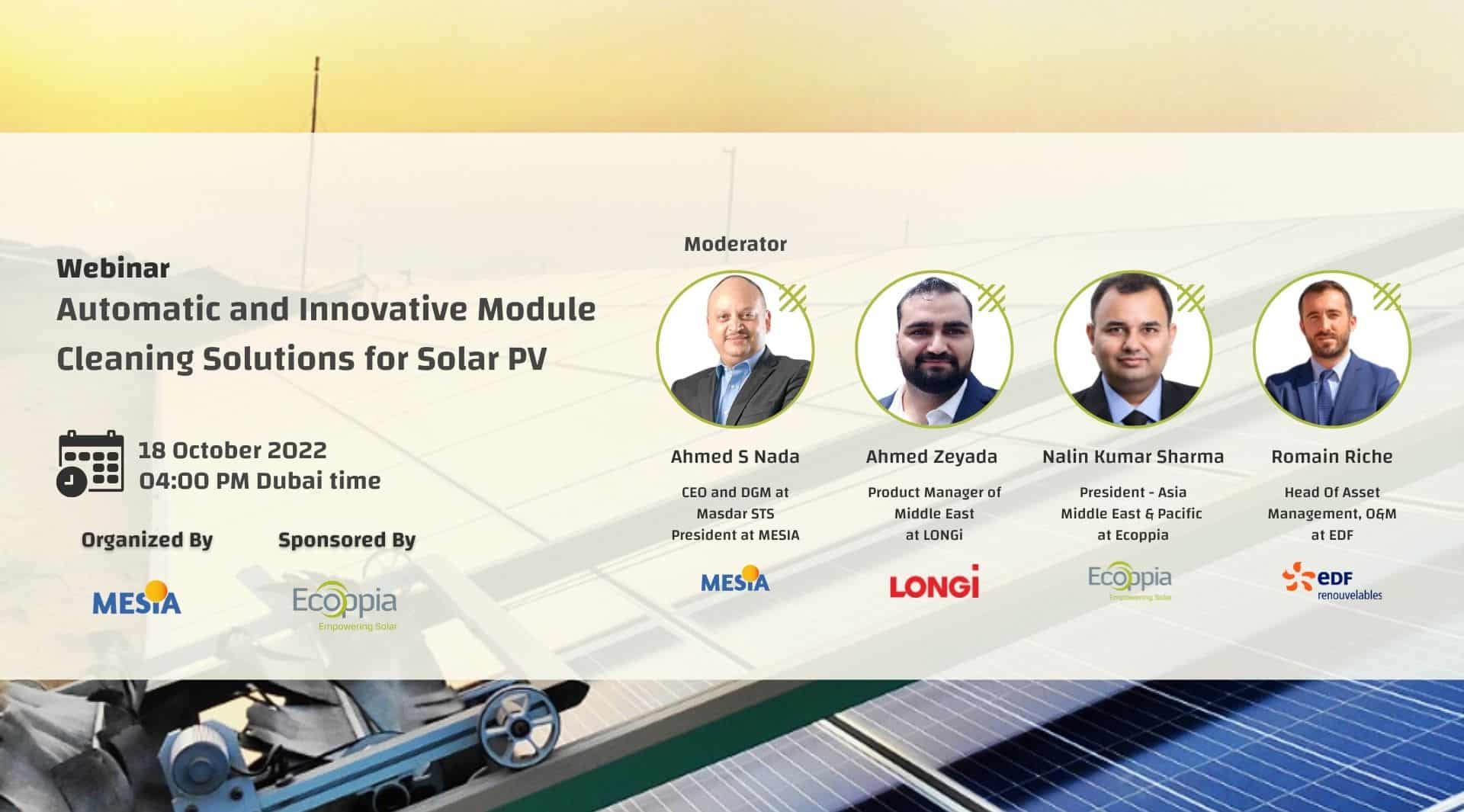 Automatic and Innovative Module Cleaning Solutions for Solar PV
We invite you to join us and attend this webinar to discuss the latest Automatic and Innovative Module Cleaning Solutions for Solar PV, the O&M market trends in utility-scale PV projects, challenges, innovative technologies, and the future of robotics in solar PV projects. This webinar is sponsored by Ecoppia, one world leaders in fully automated robotic solar cleaning for utility-scale solar PV sites.
Topics:
1. Market trends of O&M in utility-scale solar PV projects.
2. Introduction to automation & robotics in solar PV projects.
3. Local challenges in large-scale solar PV sites.
4. Innovative technologies created to increase O&M efficiency.
5. The future of robotics in solar PV projects.
Date:
Tuesday, 18 October 2022 at:
– 13:00 Rabat, Algeria
– 14:00 Cairo, Khartoum, Tripoli
– 15:00 Mecca, Kuwait, Amman, Beirut, Damascus, Baghdad
– 16:00 Abu Dhabi, Muscat
Recording:
Speakers - المتحدثين
Ahmed S Nada

CEO and DGM @ Masdar STS - President @ MESIA

Ahmed Nada is Chief Operations Officer and Deputy General Manager At Masdar STS (Masdar Clean Energy O&M Company). Masdar is a global and regional sustainability and renewable energy leader. Its renewable utility scale projects span across MENA, Europe, USA, Asia and Australia.
Ahmed stepped into the solar industry when he was appointed as First Solar Vice President & Region Executive for the ME in Jan 2013. He has since been engaged in the ME rapid solar industry evolution and supported its growth through projects development, technology, supply chain and working closely with all the industry stakeholders. He presided over key early solar projects in the ME such as Shams Maan 60MW in Jordan, DEWA 1, DEWA 2 in the UAE and closely supported Egypt's initial solar projects at Benban He is also the President of the Middle East Solar Industry Association (MESIA).
Prior to his roles at Masdar and First Solar, he spent 14-years at GE Energy.
Ahmed holds a Master's of Science Degree in International Management from the University of Lausanne, Switzerland.

Ahmed Zeyada

Product Manager of Middle East @ LONGi

Ahmed Zeyada, Technology Manager of Middle East, LONGi, with more than 500 MW of designing solar projects in more than 10 countries, motivated by passion to deliver better world to my daughter, and working every day to give the best support to our customer.

Nalin Kumar Sharma

President – Asia, Middle East & Pacific @ Ecoppia

Before joining Ecoppia, Nalin held top management positions at some of the most renowned renewables companies.

He was among the first to be employed by and Head of Channel Partnership at SunEdison Asia, spearheaded channel strategy at Tata Power Solar (NSE: TATAPOWER) (part of the $100 Billion Tata Group), and more recently the Vice President of Solar at RattanIndia (NSE: RTNPOWER).

He started his career with BPCL (NSE: BPCL), a Global Fortune 500 energy company, where he was responsible for annual revenues of $76 million. Nalin holds a B.Tech. in Mechanical Engineering from the Indian Institute of Technology (BHU), Varanasi, and an MBA from the Indian School of Business, Hyderabad.

Romain Riche

Head of Asset Management, Operations and Maintenance @ EDF Renouvelables

Romain has been working in the field of Renewables Energies for more than a decade starting in France in 2010 where he managed the solar O&M activities of EDF Portfolio.

In 2017, he moved to the UAE to develop EDFR Renewables assets in the Middle East Region. One of his first responsibility was to oversee the construction, commissioning and O&M activities of the Mohammed Bin Rashid Al Maktoum Phase III project (1066 MWp). Romain managed the Quality and Commissioning activities and at later stage the O&M activities.

His main role in EDF Renewables consist of defining and implementing smart, efficient and cost competitive Operations & Maintenance strategies to minimize downtime, reduce costs and maximize assets energy production to ensure optimal financial performance.

Romain holds an Engineer diploma in Energy and Mechanics from Polytech Engineering school based in Marseille.