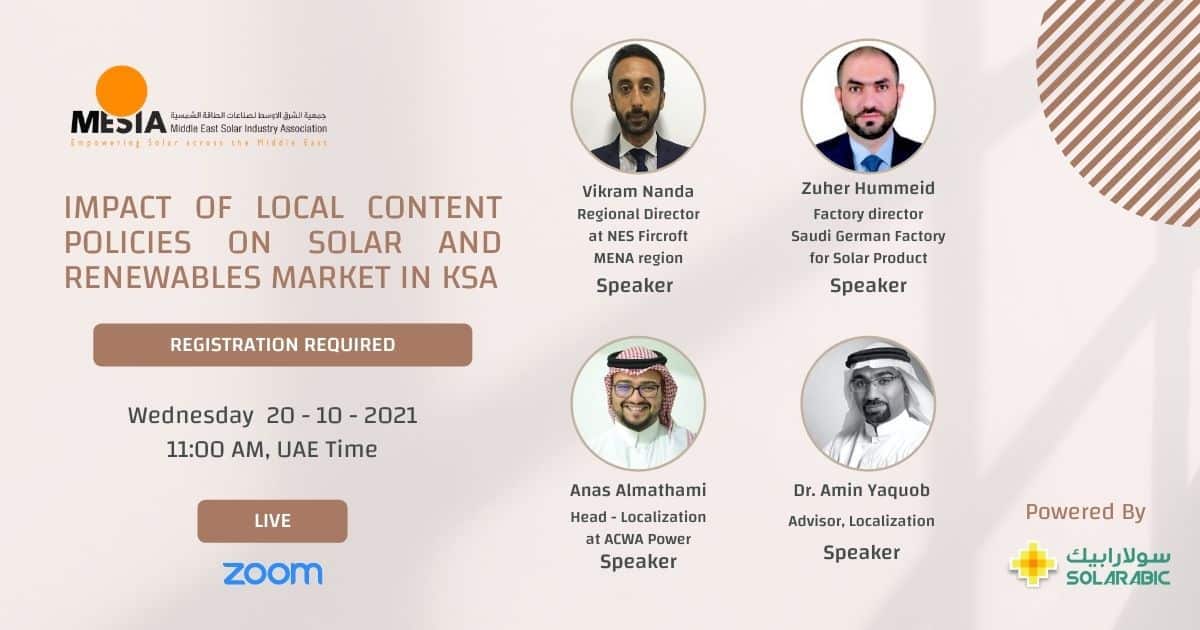 Impact of Local content policies on Solar and Renewables market in KSA
From meeting local content requirements, to establishing a local supply chain, the Saudi solar and renewable energy sector is going through a complete transformation.
In KSA, the solar energy target of 40 GW of Vision 2030 presents great opportunities for the PV industry, renewable energy and the country by reducing oil dependency and supporting local components.  The combination of the National Renewable Energy Program (NREP), and the King Salman Renewable Energy Initiative will drive the potential of renewable energy in Saudi Arabia but what will be the impact of Saudisation and local content programs, and how should they develop to ensure their success?
Webinar Topics
– Opportunities and Challenges in establishing a Local supply chain for solar and the renewable energy industry.
– Address Policies  and legal strategies requirements.
– Discuss local content strategies and programs deployed  in the sector.
– How to ensure vision is met alongside local content requirements.
Recording
Speakers - المتحدثين
Anas Almathami

Head - Localization at ACWA Power

Dr. Amin Yaquob

Advisor, Localization

Vikram Nanda

Regional Director for NES Fircroft MENA

Vikram is the Regional Director for NES Fircroft in the Middle East and leads the NES Power & Renewables Division. Vikram is responsible for the strategic development of NES's Operations across the Solar industry and has full responsibility for the operations and business development teams. Vikram has been involved in Solar industry for the past 6 years providing services Mohammed Bin Rashid Al Maktoum solar park projects phase 2, 3, 4 and 5.

Zuher Hummeid

Factory director Saudi German Factory for Solar Product