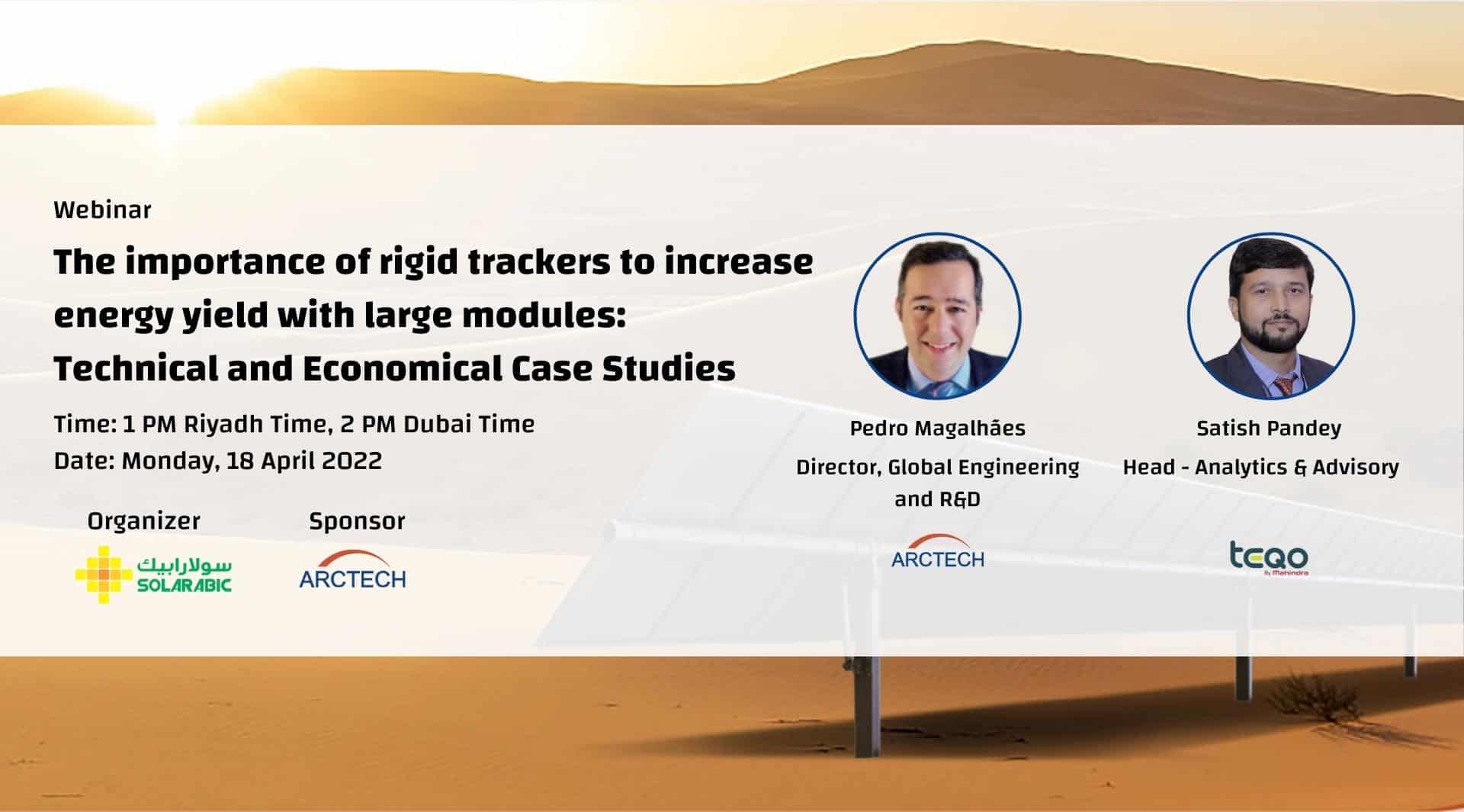 The importance of rigid trackers to increase energy yield with large modules: Technical and Economical Case Studies
We invite you to join us and attend this webinar to discuss the importance of rigid trackers to increase energy yield with large modules, including Technical and Economical Case Studies. This webinar is sponsored by Arctech Solar, one of the world's leading manufacturers and solution providers of solar tracking and racking systems.
Topics include:
1.     The challenges of tracking solutions using large PV modules
2.     The impact of optimizing tracker stow parameters
3.     Technical Case Study: impact of the flat stow position and the higher wind stow speed to achieve higher energy yield
4.     Economical Case Study: estimating the increase in project revenues and enhanced IRR based on superior tracker technologies
Live/Recording:
Speakers - المتحدثين
Pedro Magalhães | Arctech

Director, Global Engineering and R&D

Pedro HSV Magalhães started his PV career in Madrid, Spain, back in 2003, designing and engineering trackers for Concentration PV.
When PV was transitioning from the laboratory to a mass industry, Pedro moved to the USA and had the opportunity to deploy tracker solutions in the ever-growing PV market.
His career spans over several facets of the industry, from product development of PV components, plant engineering to business development of EPC services.
Pedro has a deep understanding of PV tracker technology and what it takes to design a reliable product that will last for decades out in the field.
His first tracker specific wind tunnel test was done together with CPP in 2009. Since then Pedro has managed more than 10 wind tunnel programs with tracking systems.
Pedro published several tracker specific scientific papers and co-authored the trackers chapter of the CPV Handbook by Wiley.
After graduating in mechanical engineering in his hometown of Porto, Portugal Pedro completed a MsC in PV Engineering in Madrid, Spain.
Currently Pedro is the Director of Global Engineering and R&D at Arctech Solar, where he heads tracker product development and works with owners, developers and EPCs deploying PV in 4 continents.

Satish Pandey | Mahindra Teqo

Head - Analytics & Advisory at Mahindra Teqo

Mr. Satish Pandey, Head – Analytics at Mahindra Teqo, has perceived M.Tech.-Instrumentation and M.Sc. Physics(Gold Medalist in two areas) and hold 15years of diverse experience in Solar PV modules strategy, PV Innovation, performance analysis of PV plants, Design & Engineering, Technical Due Diligence, R&D, Process Engineering, Production and Quality control. And worked with Indosaw from 2007 to 2008, Moser Baer Solar from 2008-2013, Mahindra Susten from 2013 to 2019, SB Energy (SoftBank Group) from 2019 to 2021 and currently associated with Mahindra Teqo since 2021.