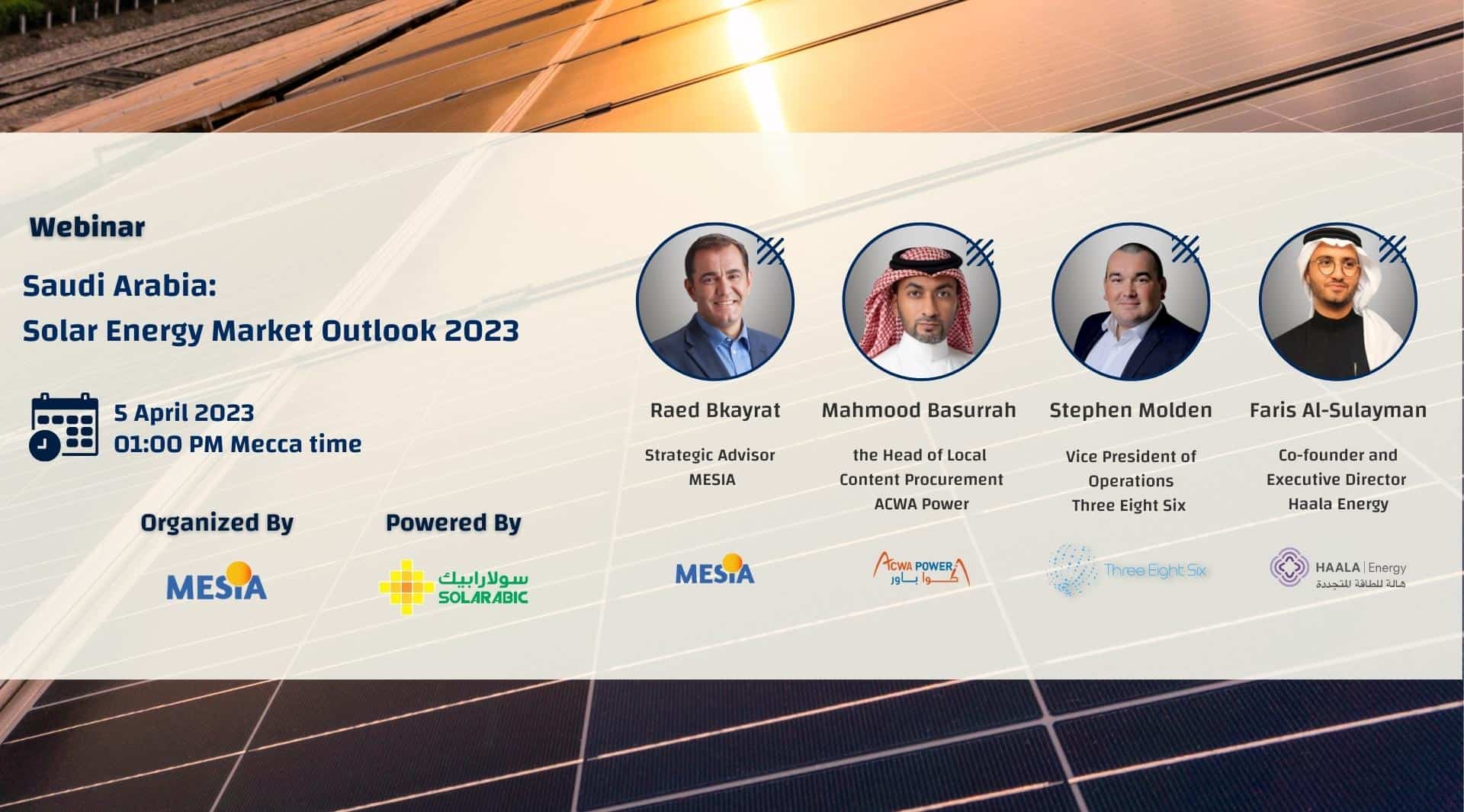 Saudi Arabia: Solar Energy Market Outlook 2023
Join us for our upcoming webinar titled 'Saudi Arabia: Solar Energy Market Outlook 2023' organized by MESIA, in collaboration with leading companies in the solar PV sector, to gain valuable insights into the thriving renewable energy market in the Kingdom of Saudi Arabia. According to the latest published MESIA Annual Solar Report, KSA's strategic pivot towards a cleaner future is diversifying the country's energy mix and reducing its reliance on oil for power generation.
With the ambitious National Renewable Energy Program (NREP) aiming to install 27.3 GW of renewable energy by 2024 and 58.7 GW by 2030, including 40 GW of PV and 2.7 GW of CSP, there are growing opportunities for both the private and public sectors to capitalize on the country's shift towards a cleaner, more diversified energy mix.
Topics:
1. Detailed review of the local content requirements and incentives for solar mega-projects.
2. Current state of the solar energy industry in terms of government policies and incentives.
3. Market analysis of the solar energy industry in Saudi Arabia, including growth projections, technical and operational challenges, and solutions.
4. Financing and investment opportunities in the Saudi Arabian solar market.
Date:
Wednesday, 5 April 2023 at 1:00 Mecca time.
Webinar Recording:
Speakers - المتحدثين
Faris Al-Sulayman

Co-Founder and Executive Director @ Haala Energy

Faris Al-Sulayman is the Co-founder and Executive Director at Haala Energy, a solar installer and developer working at the commercial and industrial scale in Saudi Arabia, and a PhD candidate at the London School of Economics, where his research focuses on the energy transitions of the Arab Gulf states. Al-Sulayman is also a research fellow at the King Faisal Center for Research and Islamic Studies in Riyadh and a Non-resident Scholar at the Middle East Institute in Washington, DC.

Raed Bkayrat

Strategic Advisor @ MESIA

Raed is currently the Chief Energy Strategist and Senior Advisor for several public and private entities like the Clean Energy Business Council, Alternative Energy Projects Co. in Kuwait, Apricum Advisory in Germany, and founder of Sunergy Consulting in the UAE. Raed has over two decades of international experience in the energy sector, having worked with Multinational corporations, government entities as well as technology startups and R&D organizations. Previously, Raed was at First Solar where he was Vice President for Sales and Business Development for MENA, overseeing First Solar's commercial footprint, market setup, origination, and strategy development. Upon moving back to the Middle East in 2009, Raed joined the core team that built the Economic Development Division at King Abdullah University of Science and Technology (KAUST), where he was responsible for creating the institution's successful Industry Collaboration Program and acted as an advisor to both public and private sector entities in Saudi Arabia. Raed previously took on several senior roles with Siemens AG in Germany and in the US. He is the author of several referenced papers and holds several patents around energy conversion. Raed is a co-founder and mentor of several technology startups and is a passionate advocate for decarbonization and the clean tech industry in the MENA region.